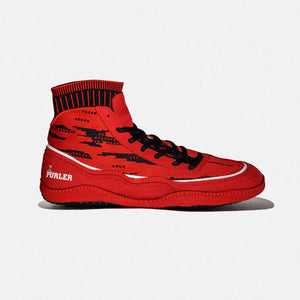 WB4.0 "Purler" Wrestling Shoes
Limited to 100 total pairs. Get a competitive edge on the mat with the WB4.0 "Purler" Wrestling Shoes. The official wrestling shoe of the best wrestling camps in the country - Purler Wrestling. "Wrestlers who train the hardest, need the best shoes to support them." They have been designed and created to maximize the limits of wrestling shoe technology. 
The shoes were built to maximize flexibility, support, and grip. Our premium Funkknit technology allows for the best fitting wrestling shoe on the market. The shoes feature an Unlimited Traction Split Sole to ensure you never slip on the mat again. The brand new WB4.0 model features new diag-lace technology which allows for the best performance on the market.
Benefits
Funkknit technology for the best possible fit, ankle support, flexibility, and breathability
Unlimited Traction Split Sole allows for out-of-this-world grip and power
Diag-lace technology push the limits of shoe performance 
Revolutionary designs and materials to ensure maximum durability 
Product Details
100 pairs of shoes releasing
Microsuede Leather, Polyester, Nylon, Rubber
Show: Red

, Black, White

Shoes fit true to size/0.5 size small
Come with an extra pair of laces